| | | | |
| --- | --- | --- | --- |
| | Pocket Sprung Divan Bed Guide | | |
17.07.19 13:50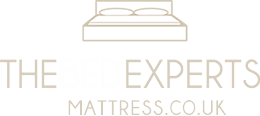 Your Handy Guide To

Pocket Sprung Divan Beds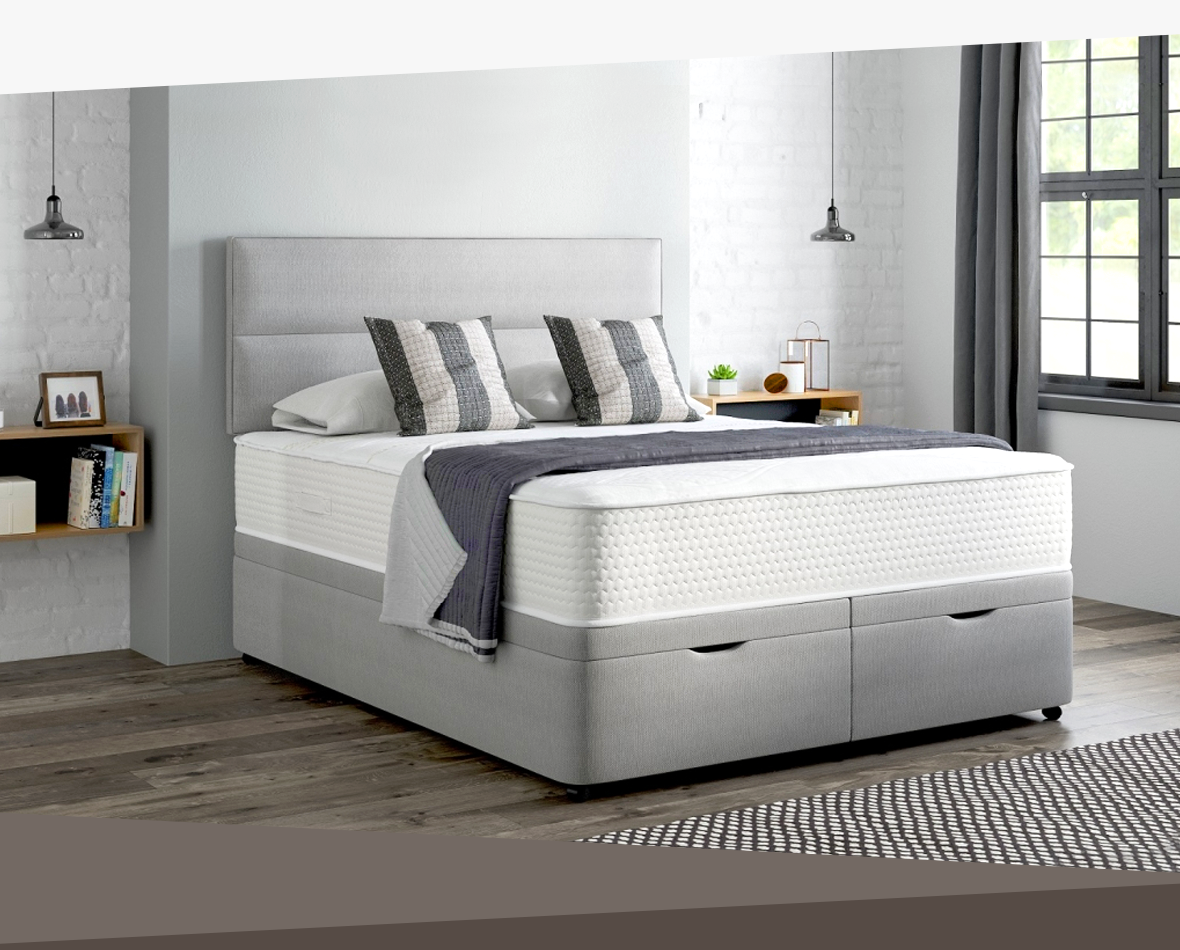 What is a pocket sprung divan bed?
Divan beds consist of two parts: the base and the mattress. The sturdy base of the divan model is made of strong wood and usually upholstered to give a luxury finish. Some divan beds also feature drawers, which are ideal for storing spare bed sheets, duvets and pillows. The base may even be mounted on casters which make it easy to move the bed for relocation or cleaning.

For those seeking ultimate comfort, a pocket sprung divan base is much more comfortable than a platform base. A platform base has a solid wood top on which the mattress is placed, giving a firmer feel. In contrast, a pocket sprung divan base is made of springs, giving a more flexible surface on which to place the mattress.


Single Divan Beds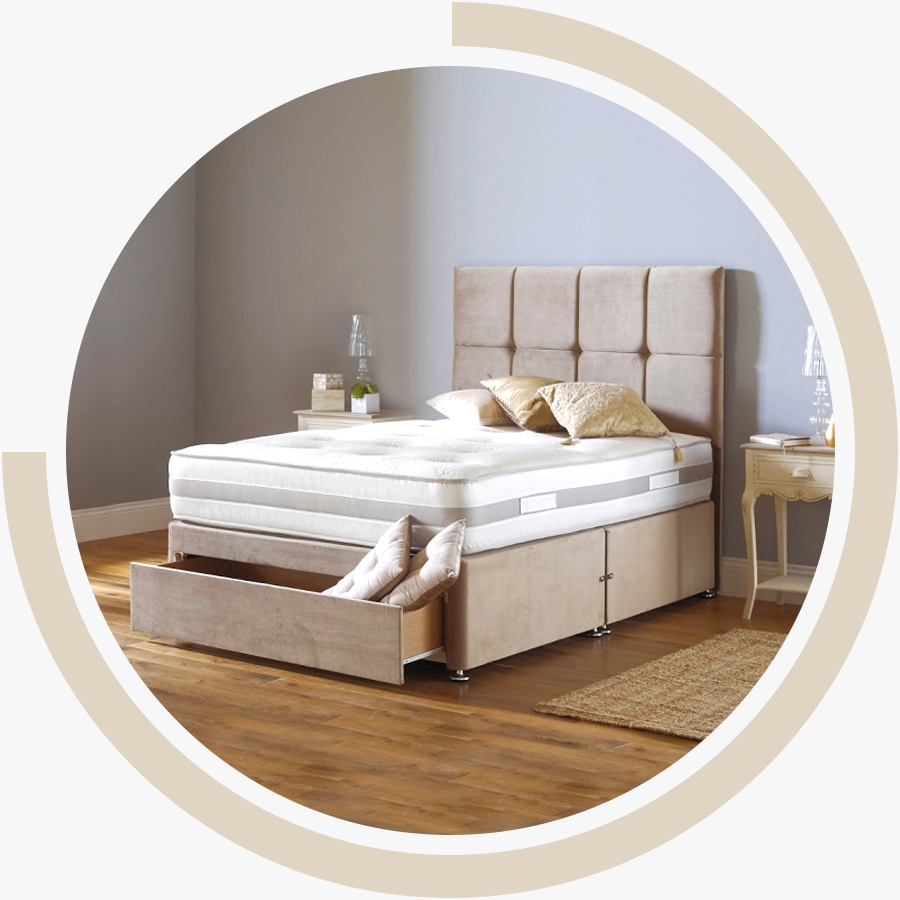 Small Single pocket sprung divan beds
The smallest model available, small single pocket sprung divan beds pack all the comforts of a larger model into a compact footprint. With dimensions of 3'0" x 6'3", they are perfect for twin, guest or childrenís rooms. You'll typically be able to choose from a range of colourways and fabrics, as well as head and footboard heights, and the added comfort of a pocket sprung base is usually preferred by children.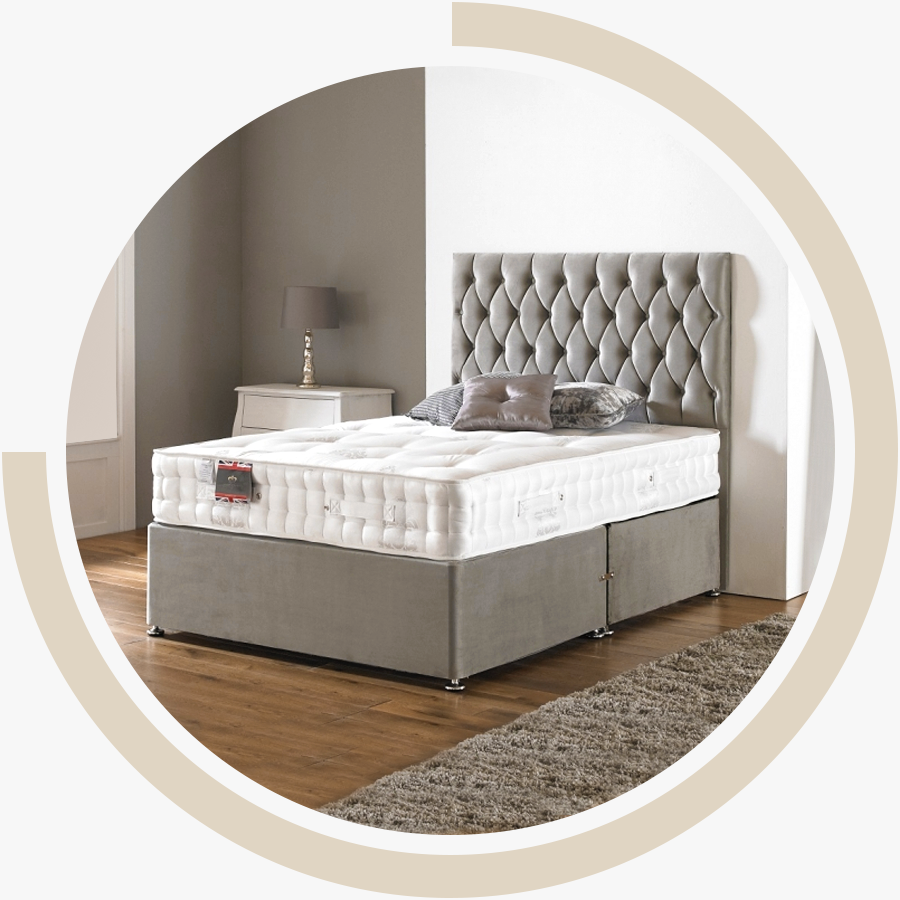 Single pocket sprung
divan beds
Single pocket sprung divan beds usually offer storage options too, from pull-out drawers to full or half Ottoman models Ė ideal for homes with minimal space.

Plus, single pocket sprung divans are incredibly versatile, with options to create a superking from two single 6ft zip and link pocket sprung divan beds.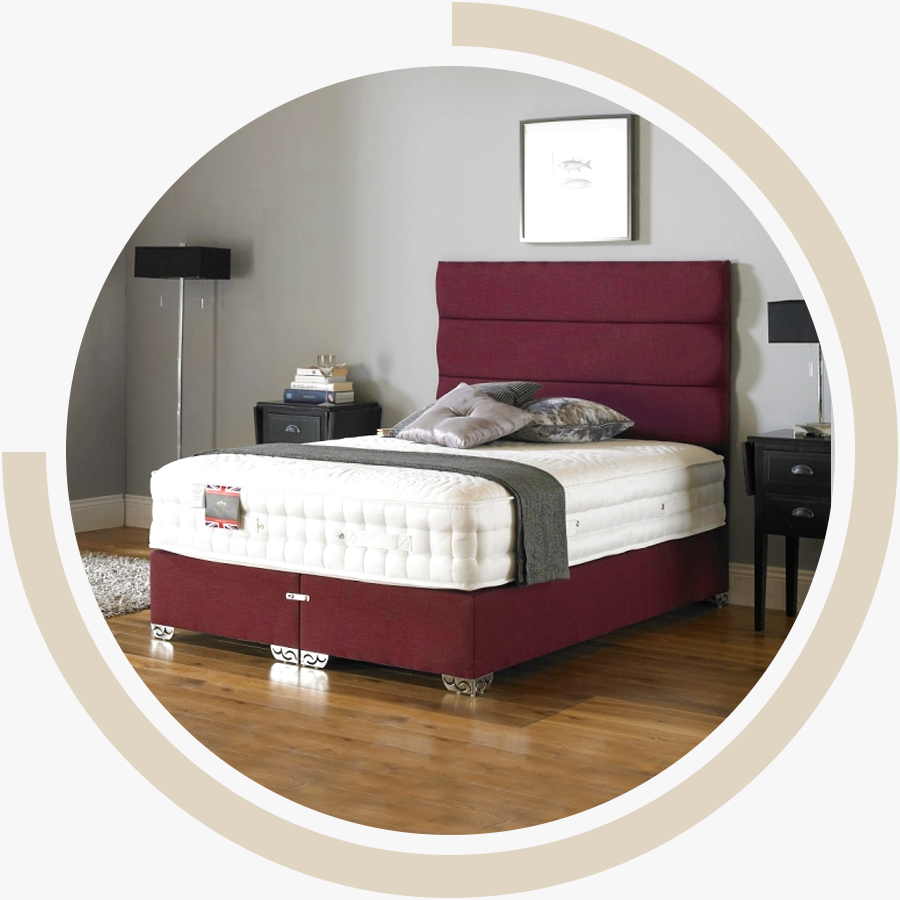 Large single pocket sprung divan beds
Large single pocket sprung divan beds measure in at 3ft 6 x 6ft 3 and is the perfect size if you have limited space in your bedroom but you also need that extra space for comfort and movement.

Large single beds are also perfect if you are in need of some storage space due to a small box room.


Double Divan Beds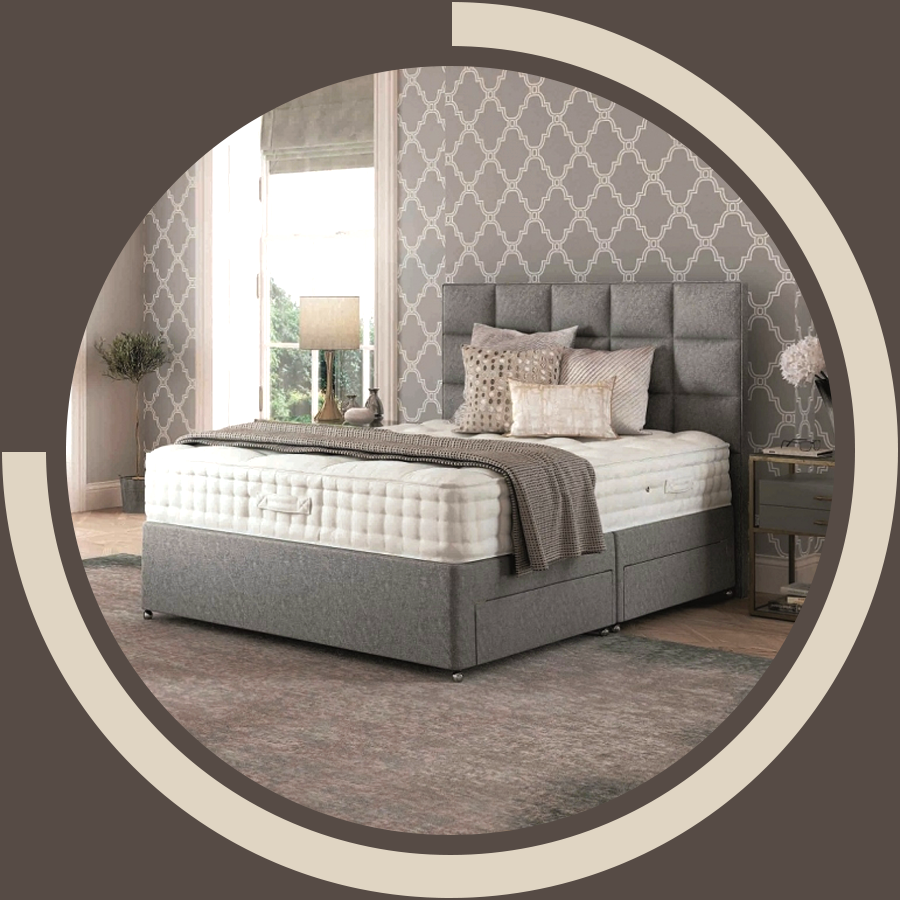 Small double pocket sprung divan beds
If you are looking to enjoy a little extra luxury in a compact space but can't stretch to a classic double, the small double pocket sprung bed is an ideal middle ground. Measuring 4'0" x 6'3", youíll save space with built-in storage and still be able to enjoy the wealth of options when it comes to colour and fabric choices for the base and headboard. The extra foot of space compared to a single bed is perfect for guest beds, teens, individuals and first homes.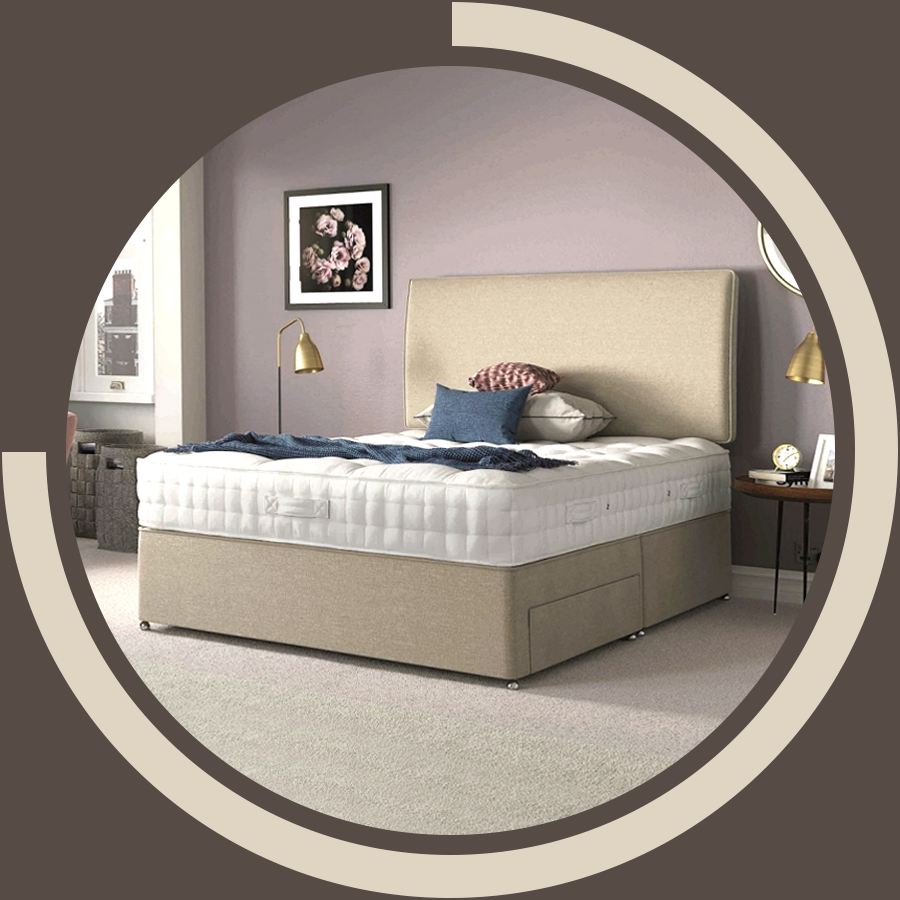 Double pocket sprung divan beds
One of the most popular beds around, the double pocket sprung divan bed model represents a choice investment. With a footprint of 4'6" x 6', it is ideal for couples but also not too roomy for single adults. This bed wonít look out of place in any type of room so long as there is adequate space, and as the most popular style, there are typically more options when it comes to features such as pannelled headboards, scrolling footboards or built-in TV shelving, lift-assist under-bed storage, as well as upholstery, footing and colourways.


Kingsize Divan Beds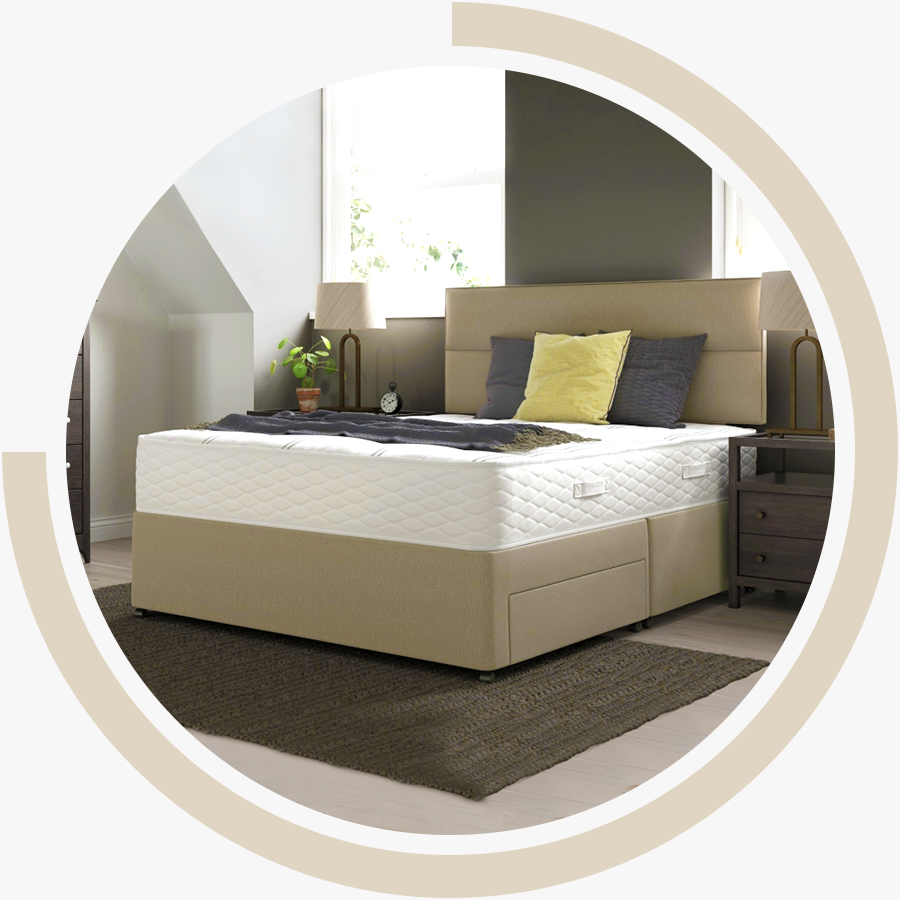 Kingsize pocket sprung divan beds
If youíre looking for a bed to fill a large bedroom, the kingsize pocket sprung divan bed is ideal. Boasting dimensions of 5'0" x 6'6", it provides extra room for those who want to spread out without fear or who donít want to be woken by their partnerís snoring or restless sleep. Itís also an easy way to fill up excess room in large bedrooms without looking out of place.

As another popular choice, youíll be able to match your style preferences in this range, whether youíre looking for specifics such as a studded or winged headboard, built-in media and charging facilities, or luxurious detailing such as wooden legs or headboard piping. Many kingsize beds also offer a variety of storage options, including end drawers.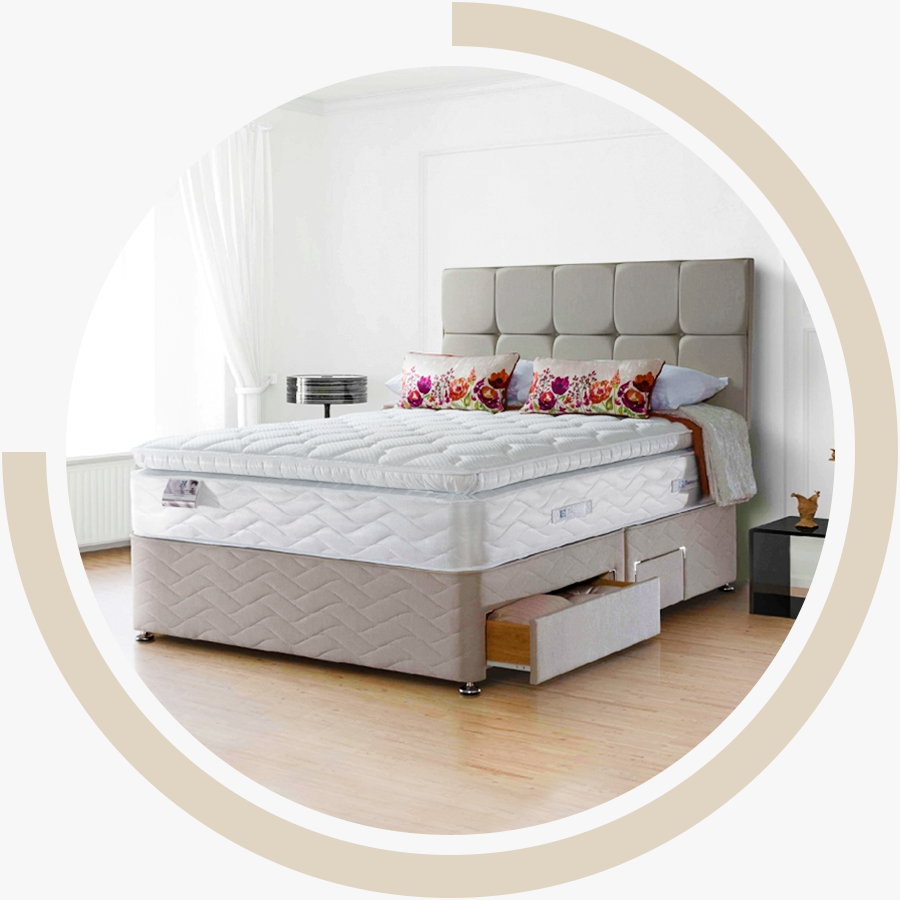 Superking pocket sprung divan beds
If youíre a fan of living it large, you canít go wrong with a superking pocket sprung divan bed. The 6' x 6' footprint means thereís no shortage of space, which makes it perfect for enjoying weekend breakfast in bed with the whole family. Throughout the night, a superking gives some extra distance from restless partners, and as the most luxurious option, they are constructed using the finest quality materials for superb levels of comfort. Expect to find models featuring in-built media options, padded headboards, studding, luxurious fabrics such as plush velour or leather, as well as side rails and exceptional detailing including brass feet. Superkings can also be incredibly flexible options if you require versatility for extra guests. 6ft zip and link pocket sprung divan beds can be used as singles in a twin room or put together to form a superking when sleeping arrangements change Ė ideal for guest rooms, holiday homes and hotels.