| | | | |
| --- | --- | --- | --- |
| | | | |
08.04.19 16:22
Divan beds aren't quite as fancy and ornate as some types of bed frames that we offer here at Mr Mattress, but who wants fancy and ornate in the middle of the night? We'd rather have something that makes us feel comfortable, relaxed, and like we could stay there forever, no matter what. Wouldn't you?
‍
That's why we offer both bed frames and divan beds, putting you in control of your good night's sleep.
‍
Divan beds are simple, but they're also effective and practical. And best of all, you can make them as comfortable as you need them to be by choosing your own style of mattress to suit your needs. Easy!


Appearance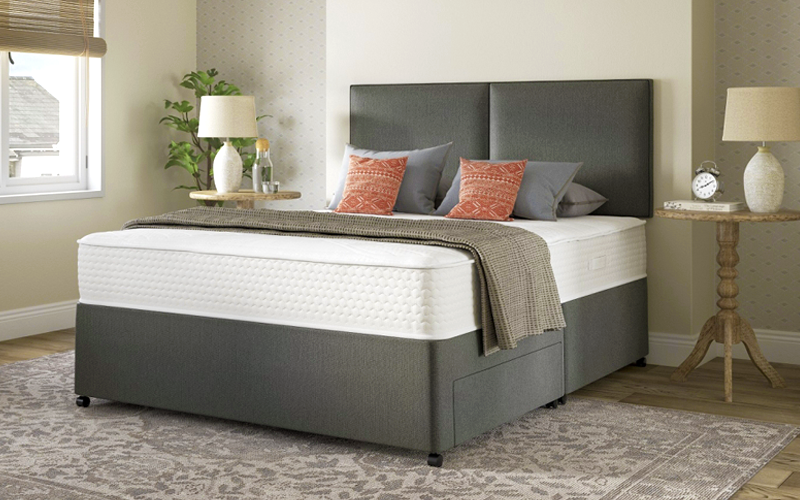 Divan beds are usually made from a strong and secure wood base, covered with high-quality fabric. They're pretty sturdy, which is why you'll find that most divan beds come with wheels (castors) or glides. If you can never make your mind up, don't worry! The wheels or glides make it a lot easier to move a divan bed around the room than it may seem, so you can try out all different spots to find a room layout that works well for you.
‍
If you've had bed frames in the past, you'll notice that divan beds seem a bit smaller. This is because they are designed to perfectly match the measurements of the mattress, while bed frames are made a little larger to hold the mattress in place. Although they may look smaller, divans are actually standard sizes:


Divan Bed Storage
Perhaps the most famous feature of the divan bed is the built-in storage: A lifesaver for many of us! This storage is perfect if you've been finding that you're a little short on space in the bedroom, or if you've been known to be a little bit messy from time to time (ssshhhhh your secret's safe with the divan).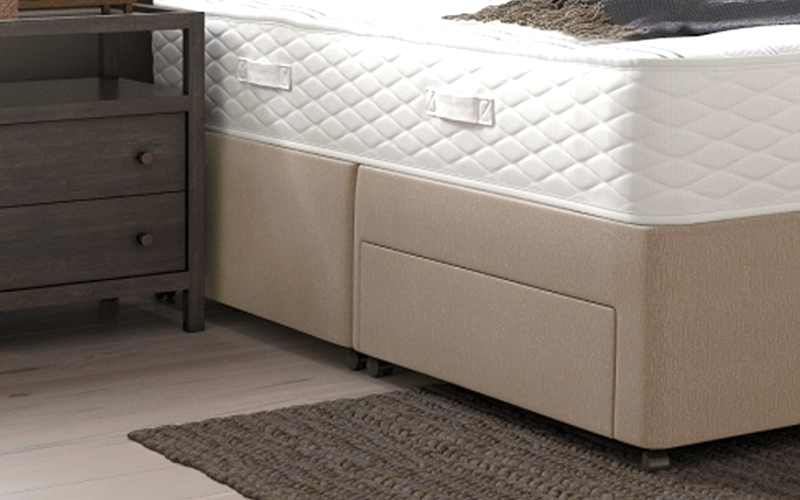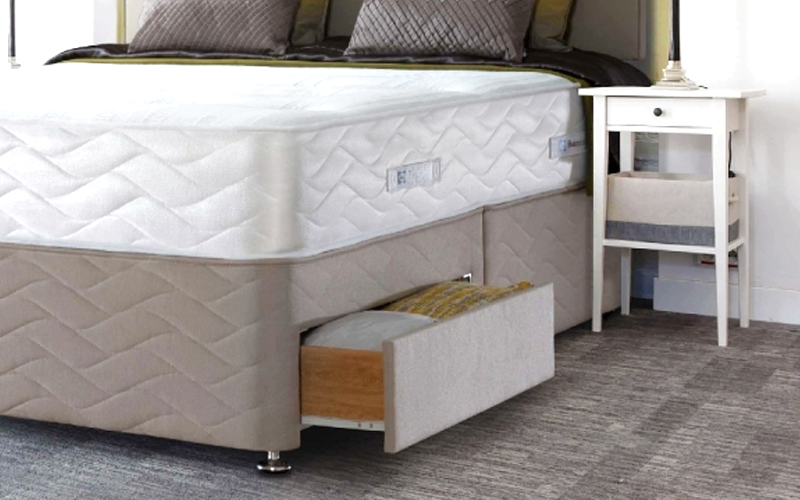 There are two types of divan bed storage: Ottoman-style, and drawers. We recommend going for an ottoman-style divan for storing items that you don't need every day. That's because you'll need to raise the top of the divan up to access your things. Your high tog winter duvet would do just fine in there.

However, if you're thinking about storing everyday things like pyjamas, underwear, a soft toy collection, or chocolate bars (we won't judge), then convenient, accessible drawer storage is a much better option.


Customisation
Like putting your own personal touch on things? Then you'll love divan beds. There are lots of ways to customise your divan to 'make it your own' as they say. Let's take a look at just some of the possibilities:

Colour:

Will your child only rest easy in a lime-coloured bed? Not a problem! Do you want a touch of cerise to match your room decor or add a pop of vibrancy and boldness? We've got you covered! There are tons of colour choices for the fabric on your divan bed, with something to suit all preferences.

Mattress:
Whether you're rather partial to a soft, snuggly memory foam mattress, you prefer an open coil mattress, or you find that posturepedic springs give you the best night's sleep, you can find a divan with the perfect mattress for you. We've got a huge range for you to browse here at Mr Mattress.

Top:
What your mattress sits on can have a huge effect on how your bed feels. There are two types of divan bed top to consider. These are a sprung top, and a platform top. The sprung top keeps things nice and bouncy and feels a little softer, while the platform top offers a firmer, more solid-feeling surface.


| | |
| --- | --- |
| | |